Marca newspaper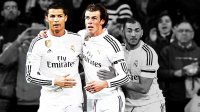 The ESPN FC panel discuss Arsenal and Manchester City's chances of progressing in the Champions League, FC Dallas' success, and Gareth Bale and Cristiano Ronaldo's relationship. ESPN FC's Alejandro Moreno recaps Real Madrid's easy 2-0 victory over Levante and says it sets up 'an El Clasico of all Clasicos'.
Marca has launched a fierce attack on the BBC, saying a recent article accusing the Madrid-based newspaper of showing bias against Gareth Bale showed that the British broadcaster has now lost its way.
It was reacting to a column on the BBC website entitled "Gareth Bale: The 'lazy loner' under fire at Real Madrid, " which claimed the Real Madrid star had been unfairly targeted by the newspaper in an attempt to undermine club president Florentino Perez.
The BBC's Andy West had referenced Spain's biggest-selling newspaper when he wrote: "Perez is learning the dangers of taking on the media, who can always have the final word in any argument, because Marca have responded by aiming their ire squarely at the man who is widely perceived as Perez's personal favourite: Bale."
- MARCA (@marca)
However, while both Marca and AS suggested that Bale's two-goal performance could be a turning point ahead of Sunday's trip to Barcelona, the latter also featured an article on Monday reporting that the former Tottenham star had recently been staying behind after training for individual sessions with assistant coach Paul Clement aimed at "polishing his flaws and improving his strengths."
Madrid centre-back Sergio Ramos said after the Levante game that he hoped the victory would calm the tensions after the recent defeats to Athletic Bilbao and Schalke.
"The demands here are bigger than anywhere else. I have been here many years, and passed through similar periods - it is not alarming, not at all. We must be more united than ever, and go to the Camp Nou to win [Sunday's Clasico], playing at our best. Today was a chance to pick up more confidence."
Cristiano Ronaldo did not join in the celebrations for either of Bale's goals on Sunday as he was disappointed not to score himself, but Ramos said that was natural given the high standards the current Ballon d'Or holder had set for himself.
"It is difficult to be Cristiano, and he has been performing at a very high level for a number of years, " the Spain international said. "He knows himself better than anyone. He is used to scoring 60 goals, and when he scores 40 he is not happy. He has a very competitive character. We are not worried if he made a gesture. We have to appreciate what he brings to the team."
Ramos said that Ancelotti, who was backed by Perez after Marca claimed he would be fired should next weekend's end embarrassingly, deserved to be treated better.
"If there is any coach who deserves respect, after all that others were allowed to do or got away with, then it is Ancelotti, " he said, apparently referring to former Madrid coach Jose Mourinho, with whom the defender had a poor relationship.
http://1xbet-one.com/1xbet-mobile-application-for-android
- here 1xbet apk file info
You might also like
Periódicos Españoles (España Noticias)


Mobile Application (sunflowerapps)




Large selection of newspapers, include all major newspapers.
Read each newspaper by sections: World, Local, Politics, Sport, Business, Technology, Science, Health, Arts, Travel, etc
Organize your favorite newspapers to the front page
Organize your favorite sections into FAVORITES so that you are 1 tap away from your news of the day.
Download newspaper s sections for offline reading.
Skim through all the articles of a section by swiping left/right. It s never that easy to stay up-to-date with the hottest news of the day.
In-app browser so that you do not have to quit the application for further reading the original article. Just tap the headline to go to the newspaper s website
One tap to share your article to Facebook, Twitter, Instapaper, Read It Later
All Newspapers of Spain - Free


Mobile Application (Viral Tech)




~219 Newspapers of Spain at your fingertips.
--Categorized by state
--Ability to save favorites for quick access
--Ability to search in the list
--Local newspapers included
Prensa deportiva, lector RSS


Mobile Application (Angel T.)




RSS reader oriented to Spanish sports press
With major sports newspapers in Spain specialized preselected as AS, Marca, Sport
The latest sports news from all sources are a single application.
Football, cycling, engine

Spain Newspapers


Mobile Application (Langtolang Inc.)




Newspaper list can be updated online
Favorites
Sort by A-Z and Frequently Read
Show mobile or desktop version of the newspaper
Add/Delete newspaper, magazine
Share the news
Automatic cache delete
Open with standard internet browser