World Cup team Portugal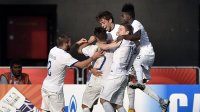 Portugal players celebrate a goal during the FIFA Under-20 World Cup. Source: Marty Melville / AFP
PORTUGAL strode confidently into the knockout rounds of the FIFA Under-20 World Cup Saturday, beating Colombia 3-1 for its third-straight win in Group C.
Despite the loss, Colombia also progressed to the round of 16 with a win, a draw and a loss which was just good enough for second place in the group.
Senegal beat Qatar 2-1 in the last Group C match and also finished with four points; behind Colombia on goal differential but likely good enough to advance as one of the four best third-place teams. Qatar finished last with three losses.
Portugal has now superseded Argentina as favourite to win the World Cup after the South American champion was eliminated Friday when its 0-0 draw with Austria left it with only two points in Group B.
Portugal players celebrate a goal during the FIFA Under-20 World Cup. Source: AFP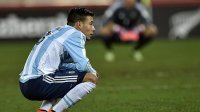 Nuno Santos scored the opening goal with a superb curling free kick after only three minutes and Andre Silva scored twice in the second half; the first from a penalty and the second with a header as Colombia's keeper came off his line but did not get to Nuno Santos' cross.
Portugal has 10 goals, while Santos Borre's 74th minute goal for Colombia was the first it has conceded.
"We knew we were going to have problems because we were taking on a team with a lot of qualities, not just in technical terms but also in the way they set themselves out on the pitch, " Portugal coach Helio Sousa said.
"We were aware that we had to be strong all the time. Today we knew what to do when we had the ball and also when we didn't, which is also important."
Senegal came from a goal down after a lethargic first half to beat Qatar 2-1, at the same time ensuring hosts New Zealand will progress to the round of 16 as the third-placed team in Group A.
Favourites Argentina are going home. Source: AFP
Qatar's Akram Afif converted a penalty in the 17th minute after Almoez Ali was brought down. Stand-in captain Alassane Sylla equalised in the 76th minute and Moussa Kone, after threatening on several occasions, scored the winner five minutes later.
Senegal needed another goal to have a chance of ousting Colombia from second place and almost scored but Mamadou Ndiaye's long-range shot went just wide of the post.
"It was a very difficult match, " Senegal coach Joseph Koto said. "Both teams wanted to win and a draw was no good for either side.
"Before the game we knew that even by taking three points it'd very difficult to qualify, so we handled the situation we were in very well.
You might also like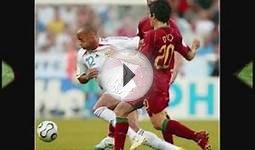 Portugal team at the world cup 2006 pics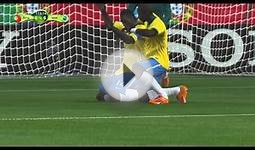 FIFA 14 Ultimate Team World Cup| Portugal wins the world ...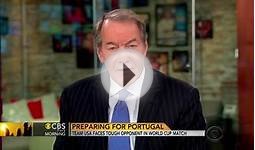 Team USA to face Portugal in World Cup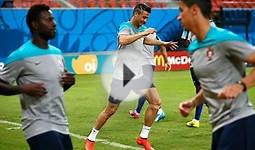 Team USA Faces Portugal in Crucial World Cup Test