Italy national team schedule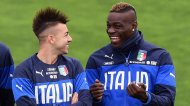 Antonio Conte has given his opinion on Mario Balotelli by calling him up to the national team.
It was a surprise. A bolt from the Azzurro if you will. No one expected Mario Balotelli to feature in the latest Italy squad. But there it was, his name standing out in print on the 26-man list released by the FIGC on Sunday evening for the crunch upcoming qualifier against Croatia in Milan and the friendly with Albania in Genoa.
Returning to Coverciano for the first time since the World Cup in Brazil, Balotelli's actions in Natal had left the impression of there being little or no chance of him going back. Not in the short term, at least.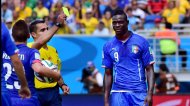 To refresh, Balotelli had almost got himself sent off in the first half of Italy's decisive game against Uruguay. He should have been dismissed to an early bath after the challenge he made on Alvaro Pereira. It might have made him cool down.
When asked during the interval to change his attitude by Cesare Prandelli, who didn't want to risk his team going down to 10 men - in a match they needed a point from, Balotelli didn't follow his advice. Instead he talked back. And with that he lost the coach who had staked his reputation on protecting and indulging him in the vain hope that this phenomenally talented player would realise the vast potential within.
That incident at the time Prandelli needed Balotelli most revealed to the then Italy coach that his faith in him had been misplaced. The disappointment he experienced was huge. Although the scoreboard at the Arena das Dunas still showed it to be 0-0, this was a personal defeat. Prandelli felt it left him no option but to replace Balotelli.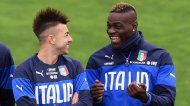 He brought on midfielder Marco Parolo for the second half.
As fate would have it, Italy would see a red card anyway. Claudio Marchisio was ejected with half an hour remaining after a misjudged tackle on Arevalo Rios. Lacking fitness and wilting in the afternoon sun, they were knocked out by Diego Godin, who headed in the only goal of the game nine minutes from time.
In Mario Balotelli's last game with Italy, the striker was subbed at halftime after receiving a yellow card and his team were eliminated from the World Cup in the group stage after losing to Uruguay.
You might also like
Italy Forza Azzurri Hero Tee: Mattia Perin Printed Tee - White| Adult Medium [P*]


Apparel ()




100% Cotton T-Shirt
Water Based Ink for super soft feel.
Design based on the Italian Soccer Team
From the 411 Hero Series