KNVB Soccer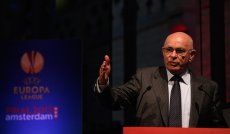 By RYAN TOLMICH
FIFA president Sepp Blatter wanted someone to step up and challenge him in the upcoming presidential elections and Michael van Praag has answered the call.
Van Praag announced Monday that he has the support of five national federations, a requirement for running for FIFA president. The Dutchman is the current president of Netherlands football federation (KNVB) and was highly critical of Blatter during last year's World Cup.
"I'm very worried about the deteriorating situation at FIFA. The public opinion, the trustworthiness, is very bad, and with me a lot of people in the world believe so, " Van Praag said, who added that Blatter was "ultimately responsible" for FIFA's poor image. "I was hoping a credible new fresh face would stand up to do it, but unfortunately that is not the case, so that is why I decided to take my own responsibility, especially after what I said in Sao Paulo, and therefore I'll go for it."
Here are some more of Monday evening's news and notes:
BARCELONA SET FOR PRESEASON TOUR OF U.S., MEXICO
After four years away, Barcelona is set to spend the 2015-16 preseason with a tour of North America.
Barcelona announced Monday that the club will embark on a tour of the U.S. and Mexico in the team's first North American trip since 2011. The trip will be the fourth time in the past decade that Barcelona has visited the area after previously appearing in 2003, 2006, 2009 and 2011.
Dates and locations of the tour are yet to be confirmed.
TUNISIA, DR CONGO ADVANCE; CAPE VERDE, ZAMBIA ELIMINATED FROM AFCON
Tunisia and DR Congo were forced to settle for a draw, but the split points were enough to send both sides through in the African Cup of Nations.
Tunisia's Ahmed Akaichi headed his side into the lead in the 31st minute, paving the way for an equalizer from DR Congo's Jeremy Bokila in the 65th minute.
Meanwhile, Cape Verde and Zambia were eliminated on Monday after the two sides played to a scoreless draw.
STOKE LOSES BOJAN TO INJURY, OVERWHELMS ROCHDALE IN FA CUP
Just 28 minutes after scoring a miraculous long-distance volley, Bojan Krikic saw his night come to a close due to injury.
The Stoke winger opened the scoring for his side in the fourth minute, leading the Premier League side to a 4-1 victory over Rochdale in Monday's FA Cup action. Bojan picked up a knock, however, and was replaced by Stephen Ireland, who contributed a goal of his own in the 32nd minute.
Stoke's goal-scoring was rounded out by Victor Moses and Jonathan Walters, who scored in the 63rd and 91st minutes, respectively, while midfielder Rhys Bennett netted the consolation goal for League One's Rochdale.
You might also like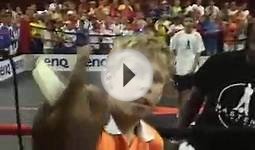 MOTG Street Soccer Clinic@KNVB Captains Cup (www.motg.com)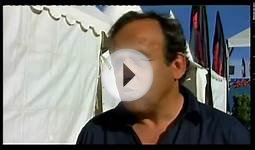 KNVB Beach soccer promo video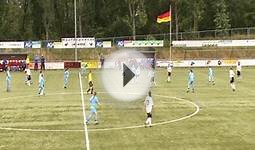 Soccer game ladies 17 year, KNVB Zuid II - Fusballverband ...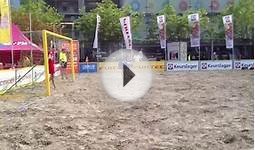 KNVB Beach Soccer Eredivisie - Amstelveen, Netherlands
Netherlands Holland Orange KNVB Logo Soccer World Cup 3' x 5' Feet Flag Banner..New


Lawn & Patio (SUPERDAVESSUPERSTORE)




NETHERLANDS HOLLAND ORANGE KNVB LOGO SOCCER WORLD CUP
3 x 5 FEET
FLAG BANNER
FOR ADULTS & KIDS
HIGH QUALITY